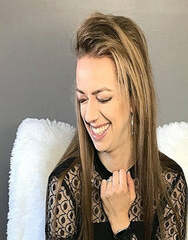 Adhd and life coach
Jessica Heimsoth
Hiya! My name is Jessica Heimsoth. I'm a follower of Christ, a member of the ADHD tribe, and a bit of a grump before I've ingested some form of caffeine.  I'm also a wife, mother, minimalist, health nut, and salsa enthusiast.  Most importantly, I'm a life coach who works with people like you. Christian moms (and dads!) who are dealing with ADHD or problems with motivation, productivity, focus, and follow-through.  People who are afraid of losing their jobs, relationships, and faith. People who are starting to give up hope that they could ever feel happiness, change their behavior, or achieve their dreams.
If that's you, I want to show you that you're wrong. I want to tell you that – RIGHT NOW – you have everything you need to shift from the habits that keep you treading water to the behaviors and beliefs that can pave the way to freedom. I want to help you transform your life.
Sound too good to be true? It's not. I know, because I've been where you are, trapped in a downward spiral I couldn't seem to force myself to escape. By the grace of God, I found my way out, and now I'm here to show you how to do the same.
Website link
---
分享此产品
---