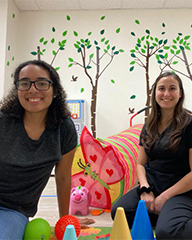 Occupational therapists
Gisela and Jessica
Hi there! We are two bilingual Occupational Therapists licensed in the state of Florida. We both attended Florida International University and met in the Master's Occupational Therapy Program. Having worked with kids for over 5+ years, being surrounded by children within our families, and as Occupational Therapists, we understand the impact that the pandemic may have had on kids.

Observing children glue their eyes to their devices, made us reminisce about when going outside was the only form of play or entertainment. This involved, gathering with neighborhood friends to ride bikes, or friends knocking on your door to ask your parents if you were available to play outside. Nowadays, while kids are still connecting, but the outlets they are using may not be as socially, mentally, or physically conducive.

As a result, we created "Inside Out Kids" to provide children with the chance to get back to the basics of play without devices through nature-based groups.

We also offer occupational therapy services to our community for kids who may need more support to foster their skills. We believe play-based and child-led therapy is the best way to foster crucial skills in children towards independence. Through our knowledge of nature-based therapy, child-led therapy, play-based therapy, and DIR Floortime we create unique treatment sessions catered to every child.

Whether you are here to learn more about our groups, receive occupational therapy services, or for some tips and tricks from our Instagram page, thank you for stopping by our website!
---
分享此产品
---